BARN DANCE CALLER FOR HIRE IN WEST SUSSEX 
including
CHICHESTER, ARUNDEL, WORTHING, CRAWLEY, BOGNOR, MIDHURST, LITTLEHAMPTON, HAYWARDS HEATH, PETWORTH, HORSHAM, STEYNING, PULBOROUGH, BILLINGHURST, CUCKFIELD, LANCING, WEST WITTERING HURSTPIERPOINT,  ANGMERING
or ring us
01908 766370
FULL TIME PROFESSIONALS WITH THE EXPERIENCE TO MAKE YOUR EVENT SUCCESSFUL  100 PER CENT RELIABLE–WE WONT LET YOU DOWN
BEWARE CHEAP OFFERS    BARN DANCE CALLER HIRE  and  LINE DANCE CALLER HIRE  LINE DANCE INSTRUCTOR HIRE   IN THE SOUTH OF ENGLAND AND MIDLANDS
CHICHESTER, ARUNDEL, WORTHING, CRAWLEY, BOGNOR, MIDHURST, LITTLEHAMPTON, HAYWARDS HEATH, PETWORTH, HORSHAM, STEYNING, PULBOROUGH, BILLINGHURST, CUCKFIELD, LANCING, WEST WITTERING HURSTPIERPOINT,  ANGMERING  
VARIOUS ENTERTAINMENTS IN THE TABS BELOW
PLEASE CLICK ON ACCORDINGLY.
BARN DANCE CALLERSBARN DANCE BANDSSCOTTISH CEILIDH EVENTSTHE ULTIMATE COUNTRY SHOWDOLLYWOOD 9 TO 5 BARN AND LINE DANCE PARTYWESTERN THEMED PROPS HIRELINE DANCE INSTRUCTOR HIRE
Caller Direct supply experienced reliable Barn Dance Callers for
every type of Social Event including—
WEDDINGS, PARTIES, SOCIALS, CORPORATE AND MILITARY EVENTS
CALLERS AVAILABLE WITH RECORDED MUSIC TO SAVE MONEY OR BANDS
Caller Direct can supply Live Bands for your event complete with Callers.
Various styles and sizes of Bands available.
Caller Direct can supply Instructors with recorded music or Live Bands for Scottish Ceilidh Events.
WEDDINGS, PARTIES, SOCIALS, CORPORATE AND MILITARY EVENTS
For a complete evening of COUNTRY AND WESTERN THEMED ENTERTAINMENT this is the complete answer.
Instructed Barn, Square and Line Dancing plus Country and Western Music/Party Music, American Flags and Lighting included.
For all you DOLLY PARTON fans a great night of  non stop Country tunes featuring Dolly plus instructed Barn and Line Dancing.
Have a look at our Sister site if want to hire a Rodeo Bull, Shooting Gallery & Various Wild West Props to make your Party the Talk of the Town. Various Western Theme Props Packages available including Jails, Backdrops, Swinging doors and more for your COUNTRY AND WESTERN EVENT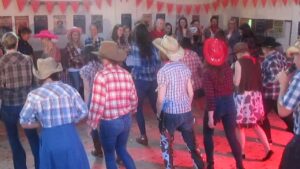 Caller Direct supply experienced reliable Line Dance Instructors for
every type of Social Event including—
WEDDINGS, PARTIES, SOCIALS, CORPORATE AND MILITARY EVENTS
INSTRUCTORS  AVAILABLE WITH RECORDED MUSIC TO SAVE MONEY
Hire one our experienced  Barn Dance Caller Professionals
Barn Dance and Line Dance Caller Direct helps you organize a successful BARN DANCE and or SQUARE DANCE  LINE DANCE  OR COUNTRY & WESTERN THEMED EVENT
ANY Social or Wedding can use the BARN DANCE OR LINE DANCE  style of Entertainment for Dancing in ANY Hall, Barn, House or Hotel.         YOUR EVENT can become a FUN BARN DANCE OR FUN LINE DANCE  evening making it what everyone wants.
A BIG SUCCESS TO REMEMBER FOR A LONG TIME. Even if you have never tried to organize a Barn Dance event—just relax! WE CAN HELP YOU–USE OUR EXPERIENCE. See 'How we can help?'
With the experience of our EXPERIENCED BARN DANCE CALLER / SQUARE DANCE CALLER/LINE DANCE CALLER  and PRESENTERS using Professional Sound Systems to play music and take your guests through the steps your Barn Dance will go with a real SWING very quickly.
For hire in the following areas–LONDON. HOME COUNTIES, HERTFORDSHIRE, BUCKINGHAMSHIRE, BEDFORDSHIRE, KENT, ESSEX, SURREY, HAMPSHIRE, EAST SUSSEX, WEST SUSSEX, OXFORDSHIRE,WILTSHIRE, CAMBRIDGESHIRE, MIDLANDS, WEST MIDLANDS, EAST MIDLANDS,NORTHAMPTONSHIRE, LEICESTERSHIRE, DERBYSHIRE, STAFFORDSHIRE, WARWICKSHIRE, GLOUCESTERSHIRE,  AVON
USEFUL INFORMATION FOR EVENT ORGANISERS THINKING OF HOLDING    BARN / SQUARE
DANCES/LINE DANCES
Holding a BARN DANCE OR LINE DANCE  is one of the best ways of solving your entertainment problem if you have to cater for people of varying ages and abilities. The ONLY form of Entertainment that can get IMMEDIATE AND INSTANT audience involvement and FUN without any previous dancing experience, skill or rhythm is a BARN DANCE OR LINE DANCE.
A big advantage of a Barn Dance/Line Dance is that you get the ULTIMATE SOCIAL MIXING EXPERIENCE—simple and easy Dances are generally used to encourage beginners and those who have not been to a Barn Dance before.
A Barn Dance or Line Dance is absolutely ideal for people who have little or no Dancing skills because most of the movements are natural to all of us—like linking your arm with someone else or holding hands to form a circle, you see these things happening every day— for example in a School playground.
Generally the Dances and movements used at a Barn Dance are hundreds of years old and have been passed down through generations, CONTINUING TO BE POPULAR because they are easy to use, simple and fun.
For hire in the following areas–   LONDON. HOME COUNTIES, HERTFORDSHIRE, BUCKINGHAMSHIRE, BEDFORDSHIRE,KENT, ESSEX, SURREY, HAMPSHIRE, EAST SUSSEX, WEST SUSSEX, OXFORDSHIRE,WILTSHIRE, CAMBRIDGESHIRE,MIDLANDS, WEST MIDLANDS, EAST MIDLANDS, NORTHAMPTONSHIRE, LEICESTERSHIRE, DERBYSHIRE, STAFFORDSHIRE, WARWICKSHIRE, GLOUCESTERSHIRE,  AVON