BARN DANCE  CALLER IN BRISTOL
BARN DANCE CALLER HIRE BRISTOL
Our featured Barn Dance AND Line Dance Caller ALAN performed at A PRIVATE BIRTHDAY PARTY IN BRISTOL
Venue Coalpit Heath Cricket Club
http://www.coalpitheathcc.org.uk/
LOTS OF LINE DANCING AND COUNTRY MUSIC during the event.
BARN DANCE AND LINE DANCE CALLER IN BRISTOL for all Social events.
BARN DANCE  CALLER IN BRISTOL
Hire one our experienced  Barn Dance/Line Dance  Caller Professionals
Barn Dance and Line Dance Caller Direct helps you organize a successful BARN DANCE and or SQUARE DANCE
OR COUNTRY & WESTERN THEMED EVENT
BRISTOL, KEYNSHAM, AVONMOUTH, PORTISHEAD, KINGSWOOD, MANGOTSFIELD, AVON 
VARIOUS ENTERTAINMENTS IN THE TABS BELOW
PLEASE CLICK ON ACCORDINGLY.
BARN DANCE CALLERSBARN DANCE BANDSSCOTTISH CEILIDH EVENTSTHE ULTIMATE COUNTRY SHOWDOLLYWOOD 9 TO 5 BARN AND LINE DANCE PARTYWESTERN THEMED PROPS HIRELINE DANCE INSTRUCTOR HIRE
Caller Direct supply experienced reliable Barn Dance Callers for
every type of Social Event including—
WEDDINGS, PARTIES, SOCIALS, CORPORATE AND MILITARY EVENTS
CALLERS AVAILABLE WITH RECORDED MUSIC TO SAVE MONEY OR BANDS
Caller Direct can supply Live Bands for your event complete with Callers.
Various styles and sizes of Bands available.
Caller Direct can supply Instructors with recorded music or Live Bands for Scottish Ceilidh Events.
WEDDINGS, PARTIES, SOCIALS, CORPORATE AND MILITARY EVENTS
For a complete evening of COUNTRY AND WESTERN THEMED ENTERTAINMENT this is the complete answer.
Instructed Barn, Square and Line Dancing plus Country and Western Music/Party Music, American Flags and Lighting included.
For all you DOLLY PARTON fans a great night of  non stop Country tunes featuring Dolly plus instructed Barn and Line Dancing.
Have a look at our Sister site if want to hire a Rodeo Bull, Shooting Gallery & Various Wild West Props to make your Party the Talk of the Town. Various Western Theme Props Packages available including Jails, Backdrops, Swinging doors and more for your COUNTRY AND WESTERN EVENT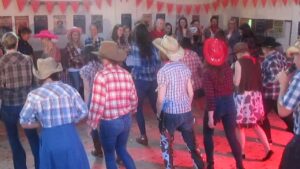 Caller Direct supply experienced reliable Line Dance Instructors for
every type of Social Event including—
WEDDINGS, PARTIES, SOCIALS, CORPORATE AND MILITARY EVENTS
INSTRUCTORS  AVAILABLE WITH RECORDED MUSIC TO SAVE MONEY
ANY Social or Wedding can use the BARN DANCE style of Entertainment for Dancing in ANY Hall, Barn, House or Hotel.
YOUR EVENT can become a FUN BARN DANCE  evening making it what everyone wants.
BARN DANCE  CALLER IN BRISTOL
A BIG SUCCESS TO REMEMBER FOR A LONG TIME.
Even if you have never tried to organize a Barn Dance event—just relax! WE CAN HELP YOU–USE OUR EXPERIENCE. See 'How we can help?'
With the experience of our EXPERIENCED BARN DANCE CALLER / SQUARE DANCE CALLER and PRESENTERS using Professional Sound Systems to play music and take your guests through the steps your Barn Dance will go with a real SWING very quickly.
BARN DANCE  CALLER IN BRISTOL
USEFUL INFORMATION FOR EVENT ORGANISERS THINKING OF HOLDING
BARN DANCE  CALLER IN BRISTOL
BARN / SQUARE DANCES
Holding a BARN DANCE  is one of the best ways of solving your entertainment problem if you have to cater for people of varying ages and abilities. The ONLY form of Entertainment that can get IMMEDIATE AND INSTANT audience involvement and FUN without any previous dancing experience, skill or rhythm is a BARN DANCE.
BARN DANCE  CALLER IN BRISTOL
A big advantage of a Barn Dance is that you get the ULTIMATE SOCIAL MIXING EXPERIENCE—simple and easy Dances are generally used to encourage beginners and those who have not been to a Barn Dance before.
A Barn Dance is absolutely ideal for people who have little or no Dancing skills because most of the movements are natural to all of us—like linking your arm with someone else or holding hands to form a circle, you see these things happening every day— for example in a School playground.
Generally the Dances and movements used at a Barn Dance are hundreds of years old and have been passed down through generations, CONTINUING TO BE POPULAR because they are easy to use, simple and fun.
Dancing is in couples and in sets ranging from 2 couples to 10 couples or more—in Circles, Squares or Longways—numbers dont really matter as long as there are enough people to fill up your Dancing space.
BARN DANCE  CALLER IN BRISTOL
Each Barn Dance last around 10 to 15 minutes including a walk through by the Barn Dance Caller to learn the steps and changes—the Barn Dance Event can be run for 3 or 4 hours with breaks between Dances of around 10 minutes.
The breaks between Dances allow you to get your breath back and socialise with friends whilst listening to background music which keep the toes tapping away whilst looking forward to the next Dance.
BARN DANCE  CALLER IN BRISTOL
To ensure your guests at the Barn Dance know what to do your Barn Dance Caller for the evening is your MC, Teacher and Instructor, using his knowledge and experience to decide which Dances best suit the audience as regards speed and complexity, CALLING out changes in movements as they occur during each Barn Dance.
BARN DANCE  CALLER IN BRISTOL
When the Dancers progress under the Instructions of the Barn Dance Caller during the evening to more complicated Dances never worry about remembering the movements and changes—it is the job of the Barn Dance Caller to remind everyone what to do–when to do it and who do it with! This is why he will often politely refuse offers of large amounts of alcohol! If he cant remember what to do—you have no chance!
The Music at a Social Barn Dance event will be a mixture of mainly traditional tunes drawn from England, Scotland, Ireland and America and also sometimes popular Second World War tunes from the 1940s all of which give an excellent atmosphere for not only Dancing but also Singing.
The Music at a Barn Dance to accompany the Dancing is played either through a Sound System using recorded Music or if your budget allows a Live Band is used.
A Barn Dance can be held in most locations as mentioned above, Clothing can be casual and for an authentic evening Straw or Cowboy Hats and colourful Check Shirts always brighten up the Barn Dance as well as providing an excellent reason for presenting PRIZES to the best dressed Lady/Gent OR Boy/Girl at the Barn Dance, in addition to a PRIZE for the Best Dancers.
Barn Dance footwear should be comfortable to allow for twisting and turning and dancing on less than perfect surfaces.